Dual Enrollment
Experience what it's like to take a college course.
Earn college and high school credit. Explore classes that interest you.
The Dual Enrollment program allows students to take Harford Community College courses while completing their high school diploma and prepares them for college or a career. What does that mean for students? Listen to their perspective in the short video below.
Eligibility
Dual Enrollment is open to high school students who meet high school eligibility requirements and/or college prerequisites. Students do not have to attend a Harford County Public School to participate. Many students who take advantage of this program are home-based learning (homeschool) students or those who attend private schools.
Choosing the best option for a student's academic path is important and should be discussed with a school counselor and/or parents before applying to the College.
Benefits
• Dual Enrollment prepares students for college by exposing them to college-level and trade certification courses, and by assisting them in the transition from high school to college.
• Dual Enrollment creates the potential for students to earn transferable college credits; the road to a degree or certificate becomes shorter, saving both time and money.
• Dual Enrollment gives students early exposure to programs of study and helps them choose a career path sooner.
• Dual Enrollment increases the probability of students earning a degree and/or a technical certificate, as shown by studies of students who participated in similar programs.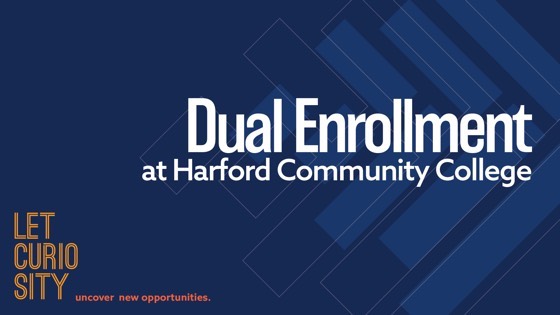 STEPS to take at HCPS
1. Talk with your high school school counselor about your plans to attend Harford Community College for College Credit only OR Dual Transfer of Credit
NOTE: For the Dual Transfer of Credit option you MUST verify with your school counselor that the college course you plan to take meets HCPS graduation requirements. See HCPS Dual Transfer of Credit Guide.
2. Apply for College Credit or Dual Transfer of Credit through the Student Enrollment Options (SEO)section of the HCPS website.
3. You will receive an auto-generated email from HCPS once your application has been processed. If approved, the email will provide your HCPS approval letter and dual enrollment verification forms. You will need to provide both documents when registering at the College.
STEPS to take at Harford
4. Apply online to the College. This is a one-time process while you are in high school. If you have already taken a dual enrollment course you may skip this step.
NOTE: Your social security number will be required.
5. You will receive an acceptance email within 1-2 business days. This email will contain information regarding how to enroll in class(es) and how to set up your OwlNet account (the online portal used for registration, email, and communication from the College).
NOTE: If you do not receive the email, check the personal email address you provided on your application, your parent's email, or your spam folder.
6. Placement testing. Visit Harford Test Center to determine if you require placement testing or if you are exempt. If testing is needed, schedule and complete it.
7. Submit high school transcripts and applicable test scores to admissions@harford.edu.
SAT/ACT scores, if applicable, may be sent through your Collegeboard.org account.
To request your high school transcript, sign into your HCPS Naviance account and request transcripts under colleges I am applying to.


8. Complete a Disclosure of Information HCPS Form. Access and completion of this form require your Harford username and password.
9. Register for class(es).
Email admissions@harford.edu to request a meeting with an Admissions Specialist.
Once you have spoken with an Admissions Specialist, login to your OwlNet account. Click on My Academic Life tab; Student Registration (left-side of the screen); Register for Classes. Choose the term you wish to register for and enter the CRNs accordingly. Once you have checked everything for accuracy, click on Submit on the bottom right.
Fill out the Harford Community College Application. This is a one-time process while you are in high school. If you have already taken a dual enrollment course you may skip this step. NOTE: Your social security number will be required.
You will receive an acceptance email, via the address you provided on your application, within 5 business days. If you do not receive the email, email admissions with your full name and birthdate.
> Apply to the College as a Dual Enrolled Student.

> After being accepted, the student will be sent a message to their personal email address from Donna Meek, Admissions Specialist, with information about the admission process and next steps.

> Students will need to prove college readiness* by taking the Accuplacer and test into college level for reading, writing, and math prior to meeting with an Academic Advisor, unless they are planning to only enroll in a PE class.

*Proving College Readiness with qualifying test scores meets COMAR (state) regulations on college admission for students under the age of 16: "Students under 16 years of age are not to be admitted to an institution of higher education, unless they are deemed 'gifted and talented'." Harford Community College defines gifted and talented as any student under the age of 16 who can assess at college level reading, writing and math."
Paying for Dual Enrollment
(for Harford County Public School students ONLY)
Once you have registered for classes, log in to your OwlNet account and click the All About Me tab, then My Bill to see your total amount due and pay for classes. Tuition waivers, if applicable, are not applied until after the start of the semester.
To assist with financial planning, Harford Community College has created a Dual Enrollment Tuition Estimator tool for Harford County Public School students. After you have registered for your class(es) and viewed your account balance, use this tool to determine your discounted tuition bill.

NOTE: The accuracy of this calculator is dependent upon correct information entered by the user. Contact the cashier at 443.412.2208 with questions.